ASK US
ANYTHING
We rounded up Good to Go's sexual health experts to answer the most common questions about STI and HIV testing and PrEP in San Diego.
Frequently Asked Sexual Health Questions 🤔
What is a sexual health check-up like? / ¿Cómo es un chequeo de salud sexual?
---
Sexual health check-ups can look different depending on where you go. Generally, this is what you can expect: ✅ A brief discussion about your sexual history to determine the best STI test for you. You may answer questions like "What symptoms are you experiencing, if any?" "How often do you use condoms?" or "Have you or one of your partners had an STI in the past?" ✅ A painless test like a urine test, blood test, or swab. Watch the Good to Go experience in less than 60 seconds: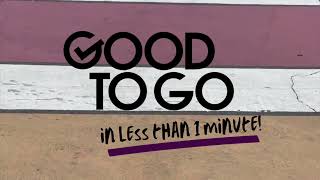 ━ Los chequeos de salud sexual pueden tener un aspecto diferente dependiendo de a dónde vayas. En general, esto es lo que puede esperar:
✅ Una breve discusión sobre su historia sexual para determinar la mejor prueba de ITS para usted. Usted puede responder preguntas como "¿Qué síntomas está experimentando, si los hay?" "¿Con qué frecuencia usas condones?" o "¿Has tenido ti o una de tus parejas una ITS en el pasado?"
✅ Una prueba indolora como un análisis de orina, un análisis de sangre o un hisopo.
---
What if I test positive for HIV? / ¿Qué pasa si doy positivo en la prueba del VIH?
---
For those who test HIV positive, the Antiviral Research Center (AVRC) at UC San Diego can help you in several ways. If you are newly diagnosed with HIV infection through the Early Test or Total Test, you will be invited to participate in another study called PIRC, where you will meet with a nurse and be considered for immediate HIV treatment at no cost. In addition, you will receive counseling, education, and laboratory diagnostic tests at no cost. We can also help link you to an HIV specialist, whether or not you have health insurance. In addition, the AVRC HQ's Partner Services program can help you to notify your sex and/or needle-sharing partners that they may have been exposed to HIV. Talking to partners about HIV is not easy and wondering if you might have infected someone else may weigh heavily on your mind. If you choose anonymous notification services, your name and other identifying information will be kept confidential throughout the process and your partners will be provided with HIV testing and linkage to additional services as needed. Our intention is to create a safe space for participants, never to judge, shame or lecture. We are here to encourage people to get tested so that they know their HIV status. ━ Para aquellos que dan positivo en la prueba del VIH, el Centro de Investigación Antiviral (AVRC, por sus programas de investigación en la Universidad de California en San Diego) puede ayudarlo de varias maneras. Si usted es diagnosticado recientemente con la infección por EL VIH a través de la prueba temprana o la prueba total, se le invitará a participar en otro estudio llamado PIRC, donde se reunirá con una enfermera y será considerado para el tratamiento inmediato del VIH sin costo alguno. Además, recibirá asesoramiento, educación y pruebas de diagnóstico de laboratorio sin costo alguno. También podemos ayudarlo a vincularlo con un especialista en VIH, ya sea que tenga o no seguro de salud. Además, el programa de Servicios para Parejas de la sede de AVRC puede ayudarlo a notificar a sus parejas que comparten relaciones sexuales y/o agujas que pueden haber estado expuestas al VIH. Hablar con sus parejas sobre el VIH no es fácil y preguntarse si usted podría haber infectado a otra persona puede pesar mucho en su mente. Si elige servicios de notificación anónima, su nombre y otra información de identificación se mantendrán confidenciales durante todo el proceso y a sus parejas se les proporcionará la prueba del VIH y la vinculación a servicios adicionales según sea necesario. Nuestra intención es crear un espacio seguro para los participantes, nunca juzgar, avergonzar o dar conferencias. Estamos aquí para alentar a las personas a hacerse la prueba para que conozcan su estado serológico respecto al VIH.
---
What is the difference between the Early Test and the standard HIV antibody test? / ¿Cuál es la diferencia entre la prueba temprana y la prueba estándar de anticuerpos contra el VIH?
---
A standard HIV test detects antibodies that the person's immune system makes to fight HIV after infection; it can take up to six weeks or more for antibodies to develop. On the other hand, the Early Test detects the HIV virus, not the antibodies, so it can detect HIV infection as early as one week after exposure. Although Early Test methods are used to screen the blood supply, they are not standard in routine HIV testing. The Early Test is being provided for this study to eligible people who would like it as a part of a research study. This study strives to learn about finding individuals that are in the earliest stages of HIV infection. ━ Una prueba estándar del VIH detecta los anticuerpos que el sistema inmunitario de la persona produce para combatir el VIH después de la infección; puede tomar hasta seis semanas o más para que los anticuerpos se desarrollen. Por otro lado, la prueba temprana detecta el virus del VIH, no los anticuerpos, por lo que puede detectar la infección por el VIH tan pronto como una semana después de la exposición. Aunque los métodos de prueba temprana se utilizan para examinar el suministro de sangre, no son estándar en las pruebas rutinarias del VIH. La prueba temprana se está proporcionando para este estudio a las personas elegibles que lo deseen como parte de un estudio de investigación. Este estudio se esfuerza por aprender sobre cómo encontrar individuos que se encuentran en las primeras etapas de la infección por el VIH.
---
Who is eligible for Early Test (HIV testing only)? / ¿Quién es elegible para La Prueba Temprana (solo pruebas del VIH)?
---
To be part of this study, you need to be 13 years of age or older (if younger than 18, must be emancipated minor or have consent given by your legal representative), provide informed consent, and be available for at least 2 weeks after enrollment. If you provide informed consent, we will conduct a risk assessment, perform a fingerstick and blood draw and ask about your PrEP use. People who take PrEP every day may not be eligible for the Early Test. ━ Para ser parte de este estudio, usted debe tener 13 años de edad o más (si es menor de 18 años, debe ser menor emancipado o tener el consentimiento dado por su representante legal), proporcionar consentimiento informado y estar disponible durante al menos 2 semanas después de la inscripción. Si usted da su consentimiento informado, llevaremos a cabo una evaluación de riesgos, realizaremos una punción en los dedos y una extracción de sangre y le preguntaremos sobre su uso de PrEP. Las personas que toman PrEP todos los días pueden no ser elegibles para el examen temprano.
---
Who is eligible for Total Test (HIV / STD / PrEP)? / ¿Quién es elegible para La Prueba Total (VIH / ITS / PrEP)?
---
To be part of this study, your last Total Test must have been three or more months ago and you need to be 18 years of age or older, a person assigned male at birth having sex with other persons assigned male at birth, HIV negative (at last test) or of unknown HIV status, provide informed consent, and be available for at least 2 weeks after enrollment. If you provide informed consent, we will conduct a risk assessment, which will evaluate your eligibility for PrEP, perform a fingerstick and blood draw, and collect samples for STD testing. ━ Para ser parte de este estudio, su última prueba total debe haber sido hace tres o más meses y debe tener 18 años de edad o más, una persona asignada varón al nacer teniendo relaciones sexuales con otras personas asignadas varón al nacer, VIH negativo (en la última prueba) o de estado de VIH desconocido, proporcionar consentimiento informado , y estar disponible durante al menos 2 semanas después de la inscripción. Si usted proporciona su consentimiento informado, llevaremos a cabo una evaluación de riesgos, que evaluará su elegibilidad para la PrEP, realizará una extracción de sangre y un pinchazo en los dedos, y recogeremos muestras para las pruebas de ETS.
---
How long will it take to get my Early Test results? / ¿Cuánto tiempo tomará obtener los resultados de mi Prueba Temprana?
---
You will take a rapid antibody test first and get those results on site during your Early Test visit. If you test negative on the rapid test, we will draw blood to send to the lab that performs the Early Test. If your Early Test result is negative, then you will be able to access your negative result through a secure website or on a toll-free phone line two weeks after you have taken the test. If your Early Test result is positive, study personnel will contact you within two weeks using the contact information you provide. ━ Primero se hará una prueba rápida de anticuerpos y obtendrá esos resultados en el lugar durante su visita de prueba temprana. Si usted da negativo en la prueba rápida, vamos a extraer sangre para enviar al laboratorio que realiza la prueba temprana. Si el resultado de su prueba temprana es negativo, entonces podrá acceder a su resultado negativo a través de un sitio web seguro o en una línea telefónica gratuita dos semanas después de haber tomado la prueba. Si el resultado de la prueba temprana es positivo, el personal del estudio se comunicará con usted en un plazo de dos semanas utilizando la información de contacto que proporcione.
---
Is there any other way that I might know that I got infected with HIV other than taking a test? / ¿Hay alguna otra forma en que pueda saber que me infecté con el VIH que no sea haciéndose una prueba?
---
Taking a test is the only conclusive way to determine if you are infected. Many people have symptoms of fever, headache, rash, diarrhea, or other flu-like symptoms one to two weeks after being exposed to HIV. However, the symptoms are so similar to a flu that most people do not recognize that they have been infected by HIV. ━ Hacerse una prueba es la única manera concluyente de determinar si usted está infectado. Muchas personas tienen síntomas de fiebre, dolor de cabeza, sarpullido, diarrea u otros síntomas similares a los de la gripe de una a dos semanas después de haber estado expuestas al VIH. Sin embargo, los síntomas son tan similares a los de una gripe que la mayoría de las personas no reconocen que han sido infectadas por el VIH.
---
Is there any risk to participating in the study? / ¿Existe algún riesgo de participar en el estudio?
---
Your participation involves some risks: • Taking blood from a vein in your arm can occasionally be associated with pain, bruising or bleeding. In rare cases, the site can get infected. Some people get dizzy or even faint when their blood is drawn. • You may experience some anxiety or embarrassment when testing and obtaining your STD results. You may experience the following when collecting samples for STD testing: discomfort (anal and throat swabs) and gagging (throat swab). • You may find out you have HIV, and this can be upsetting. Waiting for the final results can also cause anxiety for some. There is no way to prove that the virus you have is the same as someone else's, but you may feel upset that you infected your partner or they infected you. Counselors are available to talk about this. • There are risks to using PrEP (e.g., Truvada). If eligible, these risks will be discussed in detail during your I-PrEP visit at AVRC HQ. • Some other risks may be unforeseeable but you will be informed if they are identified. • There is a risk of loss of confidentiality but all measures possible are taken to ensure that your information is secure and consistent with the policies of UC San Diego. ━ Su participación implica algunos riesgos:
• Tomar sangre de una vena del brazo ocasionalmente puede estar asociado con dolor, moretones o sangrado. En casos raros, el sitio puede infectarse. Algunas personas se marean o incluso se desmayan cuando se extrae su sangre.
• Usted puede experimentar algo de ansiedad o vergüenza al probar y obtener sus resultados de ETS. Usted puede experimentar lo siguiente al recolectar muestras para las pruebas de ETS: molestias (hisopos anales y de garganta) y amordazamiento (hisopo de garganta).
• Es posible que descubra que tiene VIH, y esto puede ser molesto. Esperar los resultados finales también puede causar ansiedad para algunos. No hay manera de probar que el virus que tienes es el mismo que el de otra persona, pero es posible que te sientas molesto porque infectaste a tu pareja o que te infectaron a ti. Los consejeros están disponibles para hablar de esto.
• Existen riesgos al usar PrEP (por ejemplo, Truvada). Si es elegible, estos riesgos se discutirán en detalle durante su visita de I-PrEP en la sede de AVRC.
• Algunos otros riesgos pueden ser imprevisibles, pero se le informará si se identifican.
• Existe el riesgo de pérdida de confidencialidad, pero se toman todas las medidas posibles para garantizar que su información esté segura y sea consistente con las políticas de UC San Diego.
---
Why do I need to know my HIV status right away? / ¿Por qué necesito saber mi estado serológico de inmediato?
---
People are very infectious during the first few months after contracting the virus and more likely to transmit HIV to others during this early period. It is very important that people with HIV know their status as soon as possible after being infected so that they can protect others from being infected. Also, many studies have shown that the earlier HIV is diagnosed, the better your long-term prognosis and quality of life. ━ Las personas son muy infecciosas durante los primeros meses después de contraer el virus y tienen más probabilidades de transmitir el VIH a otras personas durante este período temprano. Es muy importante que las personas con VIH conozcan su estado lo antes posible después de haber sido infectadas para que puedan proteger a otros de ser infectados. Además, muchos estudios han demostrado que cuanto antes se diagnostique el VIH, mejor será su pronóstico a largo plazo y su calidad de vida.
---
Are the Early Test and Total Test confidential? / ¿Son confidenciales La Prueba Temprana y La Prueba Total?
---
The Early Test and Total Test are confidential, but not anonymous. This means that we will ask for your name and contact information so that we can notify you of any positive test results, or if repeat testing is needed. However, your results will not be given to anyone else without your written permission. Your information is kept in secure files that are protected. HIV is a reportable disease like Hepatitis C or syphilis, and must be reported to the public health department in accordance with the law. The U.S. Department of Health Services has issued a Certificate of Confidentiality for this research that protects your information from being disclosed for other purposes, even if it is requested by court order or subpoena. ━ La prueba temprana y la prueba total son confidenciales, pero no anónimas. Esto significa que le pediremos su nombre e información de contacto para que podamos notificarle de cualquier resultado positivo de la prueba, o si es necesario repetir la prueba. Sin embargo, sus resultados no se darán a nadie más sin su permiso por escrito. Su información se guarda en archivos seguros que están protegidos. El VIH es una enfermedad reportable como la hepatitis C o la sífilis, y debe ser reportado al departamento de salud pública de acuerdo con la ley. El Departamento de Servicios de Salud de los Estados Unidos ha emitido un Certificado de Confidencialidad para esta investigación que protege su información de ser divulgada para otros fines, incluso si es solicitada por orden judicial o citación.
---
What if I am on PrEP (HIV Pre-exposure prophylaxis)? / ¿Qué pasa si estoy en PrEP (profilaxis pre-exposición al VIH)?
---
It is recommended that all people on PrEP continue to receive HIV testing at regular intervals (typically every 3 months). The Early Test is available to most people who are taking PrEP. ━ Se recomienda que todas las personas que reciben PrEP continúen recibiendo pruebas del VIH a intervalos regulares (generalmente cada 3 meses). La prueba temprana está disponible para la mayoría de las personas que están tomando PrEP.
---
---